Volunteer Training July 2014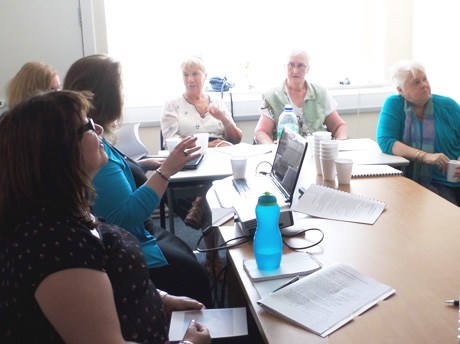 Paisley's Enchanted Threads
On Friday, 4th July, we held a training session for our first group of project volunteers. This day was an important landmark for the Enchanted Threads project, and everyone had a great time.
We met in the Session Room at Oakshaw Trinity Church. Dr Sue Morrison and Dr David Walker from the Scottish Oral History Centre, University of Strathclyde, were on hand to deliver the oral history training. The main aim of the project is to collect the thoughts, feelings, interpretations, and memories of people today relating to the story of the Renfrewshire Witch Hunt. Therefore the training that was delivered by the professional historians was crucial in giving volunteers the skills to go out and collect the voice of the community.
None of the volunteers had any prior experience in the practice of oral history. However, the professionals put everyone at ease straight away, and as the day progressed, everyone grew in confidence. Given that there was so much to learn, we did not focus specifically on the story of the witch hunt. Rather, it was all about learning practical skills and techniques, as well as a little bit of theory that helped everyone with perspective. We did, at the end, have a chance to talk about witches, though!
With this first cohort of volunteers trained in oral history techniques, they are now fully able to conduct interviews for the project. Once each volunteer has completed a specific number of interviews, they will be rewarded with a certificate from the Scottish Oral History Centre.