Children's Day August 2014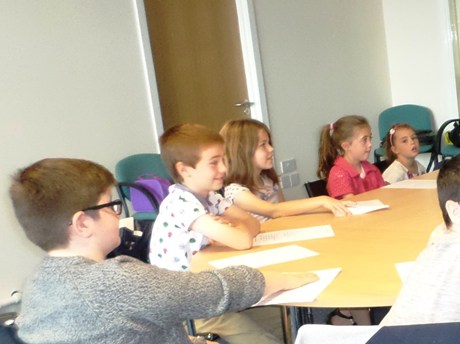 Paisley's Enchanted Threads
On Saturday, August 30th, we had a great day with some local children, exploring the stories surrounding the events of 1697, and having fun with witches more generally.
We had the great pleasure of welcoming children to our oral history day recently. The aim of day was all about teaching them about interviewing skills, and giving them practical experience in doing this within an oral history context. We also spent time talking about the story of the 1697 witch hunt, and witches more generally, and having arts and crafts fun.
The day started with the children learning about what history, and oral history especially, is all about. The amazing Dr Sue Morrison, a leading oral historian, was on hand to impart knowledge and very practical skills. We chatted about the importance of stories, and how history is not just about very important people, but everybody who has a story or a tale to tell. The children were then able to interview each other, using digital recorders, with questionnaires that they had developed on their own. Thanks to Dr Morrison, and the children's enthusiasm and ability, it became a highly productive session, at times thought-provoking, with more than a few giggles thoughout!
After lunch, the children then interviewed some of our lovely project volunteers about the Renfrewshire Witch Hunt, witches, and other spooky things. The interviews were filmed by Tim Mitchell of Rubikon Pictures, who provided his technical and artistic expertise on the day. We are grateful to Tim for all of his hard work. Before the interviews started, however, we had a storytelling session based on the events of 1697, but the children themselves had so much to say during this activity that it was really more of a discussion! Another highlight of the day was the arts and crafts activities that the children took part in. They made some amazing witches, complete with black cats and broomsticks, as well as some lovely fairies. Many thanks go to Rachel Kelly, our arts and crafts professional, for her skills and ingenuity. The children had a great time being creative.
One of the most significant aspects of the whole day was just how well the children engaged with the story of 1697, and of witches more generally. They did so not just with enthusiasm, but with intelligence and reflection. It was great to see how well they absorbed all of the new skills that they learned, as well as the story itself. Our project will be engaging again with schoolchildren over the next couple of months, and we are looking forward to doing this even more after the great day that we had recently.