Students take the story to the community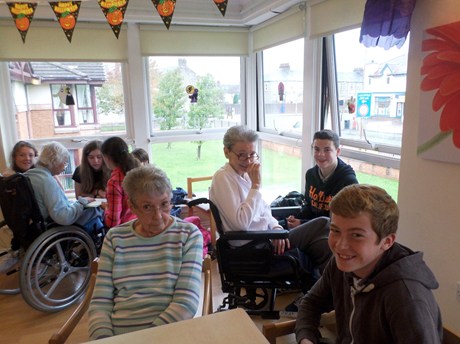 Paisley's Enchanted Threads
On Friday 24th of October, we had a great day with students from Dumbarton Academy and residents of the Castle View Care Home in Dumbarton.
The students got an opportunity to promote their love of the story of the Renfrewshire witch hunt, conducting interviews with the residents of Castle View Care Home. It was a highly successful day for all involved, with plenty of laughs along the way as well! The students not only conducted interviews with professional digital recorders, but proved just how handy they were at taking great photographs on the day!
Passing on practical skills and knowledge is an important part of the Enchanted Threads project. Understanding how to conduct an interview not only adds to a child's level of knowledge, but also enhances their inter personal skills and confidence. Dr Sue Morrison, an expert oral historian, delivered training to the students, and they cound not have wished for a better mentor before they took the story to the residents of Castle View. Sue has been very important to our project, and the students learned a great deal from her throughout their experience both prior to the event and on the day itself.
It was easy to see how quickly the students grasped things, given the response of the wonderful residents of Castle view whom they interviewed about 1697. We cannot thank them enough for agreeing to talk to the students, and for providing such high quality responses to the students' questions. Not only were the residents patient and generous with their time, they were also open and great fun too. Many thanks must also go to the staff at Castle view, who again showed us all such warmth, and generously welcomed us to the Centre.
We would like to thank Dr Amanda Moody and the staff at Dumbarton Academy for taking an interest in the Enchanted Threads project and providing us with amazing support. Huge thanks also goes to Tim Mitchell of Rubikon Pictures who conducted filming on the day. We look forward to seeing the results, which promise to be brilliant. Many thanks to all for a wonderful day!