Local students engage with the story of 1697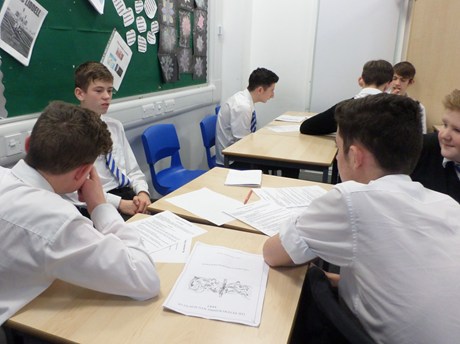 Local students engage with the story of the Renfrewshire Witch Hunt of 1697
We have had the great pleasure and privilege of exploring the story of the Renfrewshire witch hunt with students of Johnstone High School and Park Mains High School recently.
The story can be a challenging one, given that it is renowned for its complexity and the varying interpretations associated with it. But both Dr Sue Morrison, our oral history expert, and Tim Mitchell, our film professional, were thrilled by the manner in which the students of both schools responded to it and engaged with it.
The students had clearly been well prepared before we arrived, and Sue and Tim can't thank the staff at both schools enough for all of their hard work, and for generously making time for our project. Sue and Tim were keen for the students to create a forum of opinions and engage with one another by carrying out interviews based on the events of 1697. In order to achieve this, we were grateful to Dr Sue Morrison for taking the time to provide the pupils with oral history training. Sue imparted her skill and expertise to the students, giving them the confidence to produce some really amazing interviews. As well as receiving a certificate of participation from Paisley's Enchanted Threads, the students will also be given a certificate of oral history training from Sue Morrison Consultancy. Our film maker, Tim Mitchell from Rubikon Pictures, was on hand to film the proceedings, and we are greatly looking forward to presenting his film at our Project launch event in February 2015. Many thanks to both Sue and Tim for their continuing hard work on behalf of our project.
Sue and Tim would especially like to thank the staff at both schools, who were brilliant throughout. At Johnstone High, Deputy Head Teacher Graham Munro was a great help from beginning to end, and Head Teacher Walter Hayburn offered them his full support. Thanks also go to Duncan Fenwick from the History department, who was very helpful, and the interview that he provided was excellent! At Park Mains High School, Yvonne Williamson from the History Department was very kind and supportive. Sue and Tim would like to thank her for her hard work, and for taking the time to be interviewed by as as well. Both Mr McClusky and Mr McKerill were generous with their time, and made great intreviewees for the students. All senior staff were very supportive, especially as exams were going on at the school at this time. The staff at both schools did a brilliant job in preparing the students before Sue and Tim arrived, meaning that the quality of material that they produced was of a really high standard. Thank you!