Life and Death in Edinburgh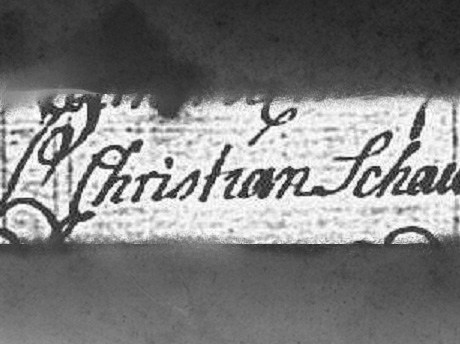 Christian Shaw's Burial Record
By the late 1720s Christian was spending more time in Edinburgh, which offered the greatest opportunity for establishing and maintaining trade with the continent. She was based in an area next to the Water of Leith, but made frequent excursions into the crammed, densely packed capital. As well as commercial links in Glasgow's Trongate, she had established retail connections in Edinburgh, through John Seton in Parliament Close.
She became increasingly involved in a spinning school which educated women in the process of thread production, although it is highly probable that this was also a commercial enterprise. Christian was a successful entrepreneur by this stage. For a female in eighteenth-century Scotland to be engaged at the industrial and comercial position she enjoyed was highly unusual. Presbyterian Scotland offered few opportunities for women at the level that Christian was operating on. Prevailing attitudes at this time meant that women would be employed in the domestic sphere, working as household servants or at cottage-level production, to name but two gender specific roles.
Instead, Christian was at the heart of the early commercial development of the textile industry in Scotland. She was fully conversant with the merchant classes, and had connections with some of the most elite individuals in society at this time. For example, in a letter to Sir John Clerk of Pennycuik in 1728, Christian thanks him for his donation of £50 to her spinning school in Edinburgh, which was distributed to girls learning the trade. Sir John was a leading figure in Scottish society at this time, and was obviously impressed at Christian's business acumen, he himself being no stranger to trade and investment. Perhaps he perceived a benevolent streak in her as well. Although it must be remembered that the product of the school would have been put to commercial use. Christian Shaw was a businesswoman first and foremost.
Christian would also marry again. In 1737, she wed William Gillespie, and the fact that Gillespie was a Glover perhaps shows that she was always networking with her business mind at full tilt. Like her first marriage, this too would be a short one. In September that year, Christian would be dead, aged 52, and laid to rest in Greyfriars kirkyard. The year of Christian's death is intriguing, as it came just one year after the repeal of the 1563 Witchcraft Act. This Act was used to prosecute and execute the witches who had allegedly tormented her as a child, but its repeal meant that, legally, it was now impossible to be tried as a witch in Scotland. Attitudes were slowly changing, and it represents an interesting footnote in her final days. This woman, who was central to one of the most famous witch hunts in Scotland, spent her final year in a society that no longer considered witchcraft a legal reality.